Art Walk or Music Walk:
Enjoy local artisans in either the field or music display their talents at local downtown businesses the 2nd Friday of each month between September and May.
Ironman Coeur D'Alene
A 2.4 mile swim, 112 mile bike and 26.2 mile run all run in succession highlight this annual event in Coeur d'Alene. Athletes begin their day at 7:00 a.m. with a swim on Lake Coeur d'Alene and have until midnight to complete what is considered one of the toughest endurance events in the world of sports. Held annually in late June. (208) 664-3194 or (877) 782-9232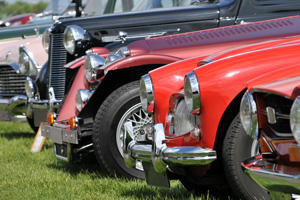 Car D'Lane Classic Car Show
On Father's Day weekend in June, the Car d'Lane Classic Car show is a "kick-off" to summer. Enjoy the Friday night "cruise" on Sherman and Lakeside with the whole family. Area restaurants and vendors have concessions available along the route. Grab a seat along the sidewalk and enjoy the show!
4th Of July Festival
Check out one of the area's many fabulous fireworks displays. Coeur d'Alene makes a day of it, with an afternoon parade, concerts in the park, and other activities. The grand finale is a spectacular fireworks display over the lake, viewable from most of downtown. Come early to get the best seat in the house on the Resort lawns or at the city park. Most North Idaho communities host celebrations and fireworks.
Wooden Boat Festival
Come see a grand assortment of Wooden boats along the boardwalk near the Coeur d'Alene Resort the 3rd weekend of August. Food & local brews are available along the boardwalk and on the Resort lawns – make a day of it!
Art On The Green, Taste Of The Coeur D'Alenes
If you're here the first weekend of August, don't miss Art on the Green, Coeur d'Alene's three-day celebration of the Arts on the North Idaho College campus – complete with hundreds of booths, children's hands-on art projects, famous ears of corn, and "clothes line" art collections by local artists. At the same time, 'Taste of the Coeur d'Alenes' in the lakeside city park offers food vendors and crafts, along with a seven-block 'Downtown Street Fair' in Coeur d'Alene, making for a full weekend of shopping and sightseeing.
Holliday Light Show
Beginning Thanksgiving weekend, the Coeur d'Alene Resort turns up the bright lights with it's Holiday Light show. Throughout the holiday season you can experience America's largest floating holiday light show and laser extravaganza. Cruise boats take you on Lake Coeur d'Alene to view the animated light displays and holiday scenes along the Coeur d'Alene Resort shoreline, and then a special visit to Santa's workshop. Other events include breakfasts with Santa, Sunday brunches with Dickens Carolers and Mrs. Clause, Santa Cruises for the very young, a downtown Christmas lighting ceremony, fireworks shows and a lighted parade. (208) 664-3194
The Festival At Sand Point
Lost in the 50's Sandpoint's antique car show Held in May, this car show, dance and festival is not to be missed. (208) 263-9321 or (208) 265-5678
Gyro Days & Lead Creek Derby
A long-standing tradition, this event includes a family carnival on Thursday, Friday, and Saturday. Visitors can watch a giant beach ball's progress as it tumbles along the clear water of the South Fork of the Coeur d'Alene River from Mullan to Wallace. Time chances are sold in anticipation of it reaching its final destination. Gyro event runs the third weekend of June. (208) 753-7151 or email director@wallaceidahochamber.com
ATV Jamboree
Family fun is in store for you during this six day event in mid-July. Enjoy beautiful scenery during hosted trail rides including an overnight campout. Participate in an ATV Rodeo, parade, and other exciting events. The festival ends with an Awards Ceremony and Steak-Fry dinner. All activities are designed to include all ages and abilities for your family's enjoyment. The High Mountain ATV Club, whose motto is "Ride with Family, Ride with Pride", hosts the event. (208) 556-4308
Huckleberry Festival
Huckleberry Sheriff and Huckleberry Hound reign during this exciting three-day event that features activities for the whole family. Craft vendors on the lawn of the NP Depot Museum, tantalizing food (including Huckleberry Pancakes!) and entertainment on the Gazebo. Hands-on displays. Annual 5K Run. Huckleberry Bake-Off. This festival runs Fri-Sat-Sun the third week of August. (208) 753-7151 or director@wallaceidahochamber.com
Yuletide Celebration
What better way to start a celebration than with a pie & coffee social sponsored by the Senior Center?! Little ones have the opportunity to have lunch with Santa and have their pictures taken. Enjoy a great performance of The Nutcracker by local dance students. Entertainment, mini-festival of trees, and the crowning of Little Miss and Master Snowflake highlight the celebration. Round out the day as you walk throughout the brightly lighted residential area on the Winter Walk. This Chamber event is held on the first Saturday of December. (208) 753-7151 or director@wallaceidahochamber.com.
Silverwood Theme Park & Boulder Beach Water Park
A variety of family friendly activities are scheduled throughout the summer. From "American Pride & Service Day" to "Spiritfest", there's always something exciting happening at Silverwood.